Our 2019 colour brochure is due out early January. However, if you prefer to ensure your place on any holiday, request a booking form today by ticking the box on the reply section and return to us. Please note some dates may be subject to change.
CLICK TO DOWNLOAD FULL UPDATE (PDF)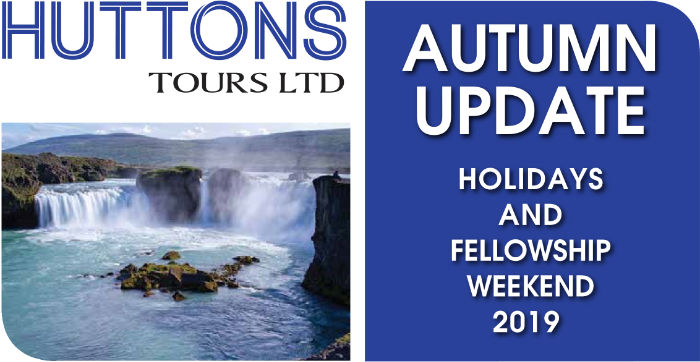  APRIL 22 – 26 EASTER in ENGLAND'S LAKELAND GLORY ELG/19
5 Day coach tour based at the lovely 3***Newby Bridge Hotel near Ulverston Deposit £75pp Set in lovely landscaped grounds, a welcoming place overlooking Lake Windermere.
 MAY 6 – 10 HIGHLIGHTS of HOLLAND HOH/19
5 Day guided air/coach tour based in 4****Hogerhuys Hotel Noordwijk Deposit £150pp
Visit Keukenhof, The Hague, Hiding Place, Amsterdam, Volendam, Markem and Edam
 MAY 6 – 15 SPANISH SUNSHINE SHS/19
10 Day resort holiday based at 4****Sol Principe Hotel Torremolinos Deposit £250pp
Ever popular sunshine resort holiday with evening fellowship times included
 JUNE 1 - 8 CORNWALL COAST COUNTRYSIDE CCC/19
8 Day holiday tour based at splendid 3***Pentire Hotel at coastal Newquay Deposit £200pp
Includes visit to Royal Cornwall Show, daily tours and visit to Morrow family farm
 JUNE 10 - 17 MADEIRA GARDEN ISLAND MGI/19
8 Day resort holiday based at 4****Pestana Garden Village Resort, Funchal Deposit 250pp
The Pestana Village is a 4-star hotel in Funchal, surrounded by gardens and architecture
 JUNE 15 - 19 SCOTTISH CASTLES and GARDENS SCG/19
5 Day tour based at 3***Loch Tummel Hotel Tummel Bridge nr Pitlochry Deposit £75pp Includes visit to Balmoral Castle on Royal Deeside, Glamis Castle and Blair Castle
 JUNE 24 - 28 IRELAND'S SUNNY SOUTH EAST ISE/19
5 Day tour based at excellent 4****Ashdown Park Hotel Gorey Co Wexford Deposit £75pp
Welcome to the Republic's sunshine sandy coast. Visit Johnstown Gardens & Museum
 JUNE 27 – JULY 6 AUSTRIA'S TYROLEAN SPLENDOUR ATS/19
10 Day holiday tour based in the lovely Alpine village of Hinterglemm Austria Deposit £250pp Our most popular and much-loved tour in the Austrian Tyrol now in its 18 th Year!
 JULY 2 – 10 GRAND HEBRIDEAN ADVENTURE GHA/19
9 Day tour based at 3&4-star hotels throughout Hebridean Islands Deposit £100 The Hebrides tour offers unrivalled beaches, culture, wildlife and adventure
 JULY 8 – 11 GREAT YORKSHIRE SHOW GYS/19
4 Day show tour based at 3***Cosmopolitan Hotel Leeds City Centre Deposit £75pp 1-day admission plus optional day. Includes Harewood House and Thirsk Farm Centre
 JULY 15 – 19 SLIGO ATLANTIC WAY SAW/19
5 Day holiday tour based at 3***Sligo City Hotel Sligo City Centre Deposit £75pp Visit stunning Lissadell House & Gardens and beaches of Strandhill and Mullaghmore
 JULY 22 – 29 EASTBOURNE COAST COUNTRYSIDE ECC/19
8 Day resort holiday with tours based at the excellent 3***Lansdowne Hotel Deposit £200pp
This South Coast resort is always appreciated for its level promenade and beautiful gardens
 JULY 29- AUGUST 5 LLANDUDNO & NORTH WALES LNW/19
8 Day resort holiday tour by coach based at 3***Marlborough Hotel on prom Deposit £100pp
Another one of our most popular holidays based at the seafront Marlborough Hotel
 AUGUST 5 - 9 ICELAND LAND OF FIRE AND ICE IFI/19
5 Day Fly/coach tour based at 3***hotel in Reykjavik City the island's capital Deposit £200pp
Includes day tours with guide and free time to enable you to explore places of interest
 AUGUST 19 – 24 CHARM of the COTSWOLDS COC/19
6 Day tour based in 3***BW Salford Hall Hotel, near Stratford upon Avon Deposit £150pp
Visit Adams Farm and HRH Prince Charles Highgrove Gardens, tour the Romantic Road
 AUGUST 31 – SEPT 7 JERSEY ROYALS & ROSES JRR/19
8 Day resort holiday based at 3***Mayfair Hotel St Helier in city centre Deposit £200pp
Island tour included plus optional day tours and evening fellowship times with tour leader
 SEPTEMBER 6 – 8 PORTRUSH FELLOWSHIP WEEKEND PFW/19
3 Days of fun and fellowship at Magherabuoy Hotel inc gospel music and song Deposit £50pp Now a popular weekend event with Hutton's Tours customers by coach or own transport.
 SEPTEMBER 9 – 13 DALES and LAKELAND EXPLORER DLE/19
5 Day tour based in 4****Samlesbury Hotel, Preston. Famous Railway Journey Deposit £75pp
Visit Westmorland County Show . Lake cruise, Outward sailing 11.30am, return sailing 19.30.
 SEPTEMBER 16 - 20 AUTUMN in SCOTTISH GRANDEUR ASG/19
5 Days based in magnificent 4****Ardgartan Hotel near Loch Lomond Argyll Deposit £100pp
Enjoy Victorian Rothesay on Isle of Bute and Gothic Stuart Mansion & Gardens
 SEPT 27 - OCTOBER 6 MAJESTIC MAJORCA MJM/19
10 Day resort holiday based at 4****Grupotel Los Principes, Playa de Muro Deposit £250pp
One of our customer's favourites destinations including fellowship times and fun
 OCTOBER 7 - 11 WESTPORT GRANDEUR WPG/19
5 Days to spoil yourself in the luxury of 4****Knockranny House Hotel Deposit £75pp
Enjoy the grandeur not only of Knockranny Hotel but the scenery in Mayo and Achill